As many enter this new bright season, we may be searching for that song to use as the anthem for summer. With the amount of new songs entering the scene, finding music you will like at times may appear to be a daunting task. There are so many different tactics you can use to find tunes that will fit perfectly into your life, and luckily for you, I have five different ways you can find new music.
Streaming Services
With the large amounts of streaming platforms that exist in the app store, it is easy to not only blast your favorite songs but also discover your next addiction. Music apps like Spotify and Apple Music often feature playlists that include artists who line up with your particular music taste. Some of the songs and musicians you discover might come from your friend's public song archive. My little brother, Jeremy has such nose for finding new bops that people are constantly stealing music from his Spotify account.
If you don't have a trusted source to get new songs from, Spotify makes a Daily Mix based on your saved songs and incorporates artists who are similar. But don't be discouraged if you are not a fan of Apple Music or Spotify because there are still other options to choose from. Pandora and iHeart Radio can be used to create a custom radio station based on a certain or genre. The purpose of SoundCloud is to find new music, so after you listen to one track it automatically plays something you might like. No matter which app you pick, new favorites can be a part of your future.
Social Media
Social media is one of the many ways upcoming artists promote their music. New hits can become viral on Twitter and Instagram before it gets added to a playlist on a music app, so it is important to pay attention to artists who use your timeline to share their work. You may see the advertisements as annoying, but try to change that mindset and instead check out their stuff because that musician might just be your new obsession.
The people you follow on social media may also recommend or play a track on their page long before the song gets any traction. I suggested "Havana" by Camila Cabello the moment she released it, and the few who followed my advice were forever grateful, but the ones who didn't lived months that was not filled with a banger ultimately making their life sad.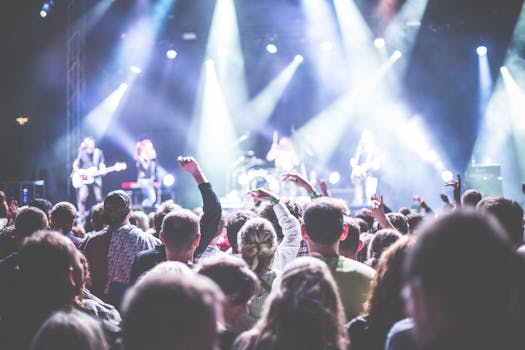 Live Shows
Going to a live show another proactive strategy to find a new favorite. Whether it be at a local bar that offers live entertainment or a venue that showcases unknown talents can really give you a feel of who a musician is and add someone who you would have never come across on your radar. It can also be helpful if you already have tickets to see one of your most cherished artists, make sure to check out the person or group who is opening the show. Someone you stan is supporting this newcomer and thinks so highly of their talents that they put them in the show, so the opening act is worth listening to.
Luckily, if you are broke like me and can't afford to go to a show, a thing called Google exists, so you can still look up who the supporting artists are and check them out. During Beyoncé's Formation World Tour, Chloe x Halle performed as the opening act, and that gig definitely helped increase their fanbase, and they are definitely on a lot of people's radars.
Soundtracks
TV shows use different types of music in order to enhance the mood for a certain scene, so perhaps a couple of your guilty pleasures are playing bangers while you are eating watching. Some of my favorites came straight from a TV or Netflix series. After my brothers and I finished watching season one of Riverdale, my brother, Danny and I became obsessed with "Believer" by Imagine Dragons. You can also find new tunes while watching a movie. Movie soundtracks usually feature a narrower range of sound, but you can still find some gems in the album. "To Be Human" by Sia feat Labrinth from the Wonder Woman soundtrack is a beautiful song, and everyone needs to listen to it at least ten times. But there might be an occasion when the entire movie album is amazing, and the perfect example of this can be seen with the Black Panther soundtrack, a collection everyone needs to look up.
Word of Mouth  
When you find a new song or artist that you can't help but replay chances are you want to share it with your friends like I did with "Havana." Listening to music recommendation from your best friends can be a good tactic to add new songs to your archive. If they are a good friend, they should know who you are inside and out. Using their understanding of your interests, they can recommend music that you will fall in love with. One of my friends is gifted at finding songs that you will definitely enjoy, so she is always coming through with the plug.
If you are trying to expand horizons, you can get suggestions from someone who is older than you. Before you throw out the idea completely, hear me out. There might be bands or individuals who your parents or aunts and uncles listened to when they were younger that might be someone you end up loving. Just because a song is "old" doesn't mean it is no longer good. Music is timeless, so maybe a bop from another time period is destined to be added to your playlist.
There are of course countless different platforms and strategies you can use to find new music. Whichever one you choose to use, remember to be open to listening to everything at least once because a song might surprise you and end up being your favorite song in the entire world. Don't place too much importance on actively searching for tunes, because sometimes the best thing you can do is wait for them to come to you.